3 Easy Keto One Pot Meals
3 Easy Keto One Pot Meals – Quick and Simple Low Carb One Pot Meal Recipes – including Irish Lamb Stew, Vegetarian Broccoli Soup and Chicken Sausage Casserole.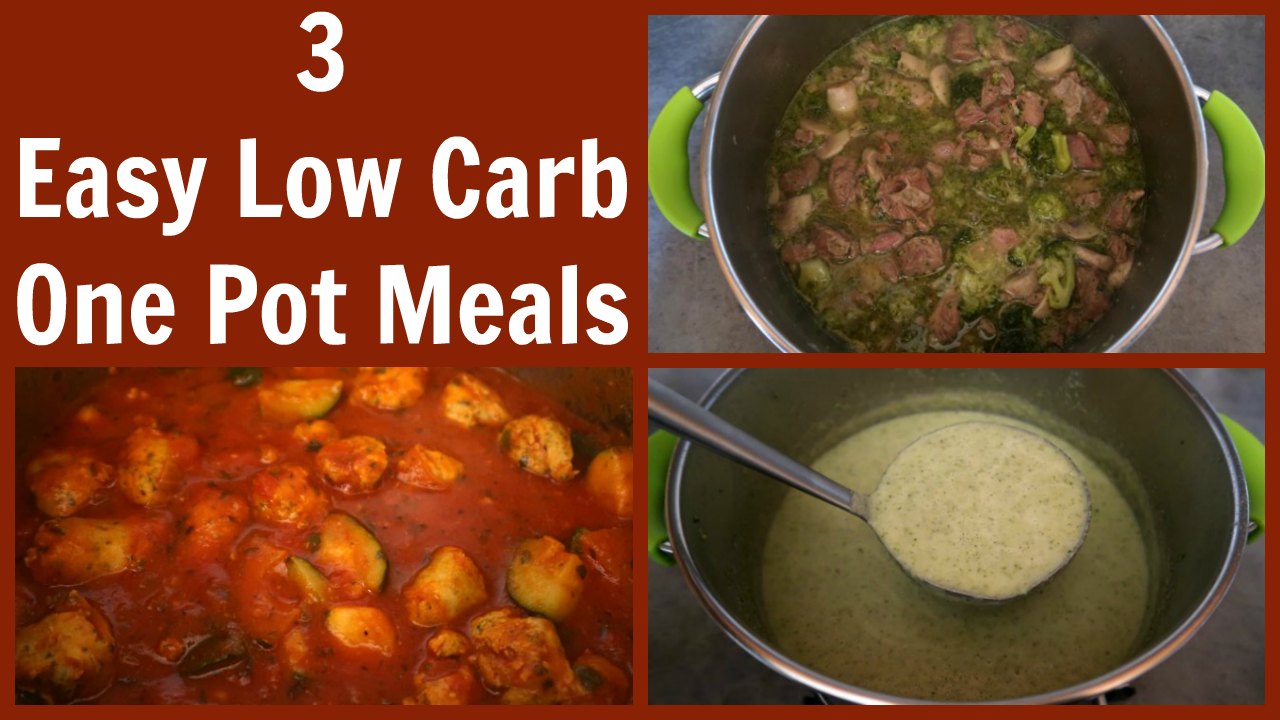 3 Easy Keto One Pot Meals
These 3 easy keto one pot meals make quick low carb family dinners that require very little effort for maximum comfort and flavor. (Plus, there's only one pot to wash up!)
After sharing 3 Microwave Chocolate Keto Desserts last week, I asked my YouTube Audience what they'd like next. And, the unanimous answer? Easy one pot meals!
So, I spent the past week cooking and filming my go to easy low carb one pot meals to share the simplicity with you.
1. Irish Lamb Stew – Keto One Pot Meal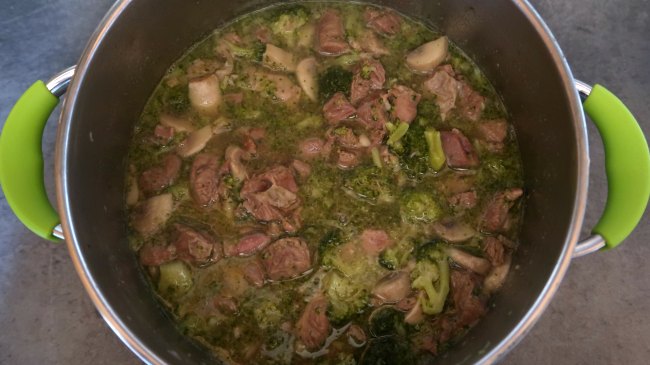 I started the week with a warming Irish Lamb Stew. To make this one pot meal, you'll need:
500g-1kg/1-2.2lbs Lamb Stewing Meat
Onion, chopped
Garlic, chopped
Stock/Water
Broccoli, chopped
Mushrooms, chopped
Salt & Pepper, to taste
You can use the above listed vegetables or choose to only use half the onion and one from broccoli or mushrooms to keep the carb count down.
Or, you could substitute with any of the following low carb vegetables:
Cauliflower
Zucchini
Leek
Radish
Green Beans
Brussels Sprouts
Eggplant
Cabbage
Spinach
Kale
Celery
Asparagus
To make the easy low carb dinner, melt coconut oil or extra virgin olive oil in a pot.
When hot, add the chopped onion and garlic and cook until starting to soften.
Then, add the lamb and toss to brown. Add salt and pepper to taste and one the lamb has browned pour over the stock/water to cover.
You can add your vegetables now and cook them for the whole cooking time of 2 hours. Or, cook the meat for 1.5 hours, add the vegetables and cook for a final 30 minutes or until the meat is tender and vegetables cooked to your liking.
This is such a hearty low carb, keto friendly stew that the whole family will adore.
2. Cheesy Broccoli Soup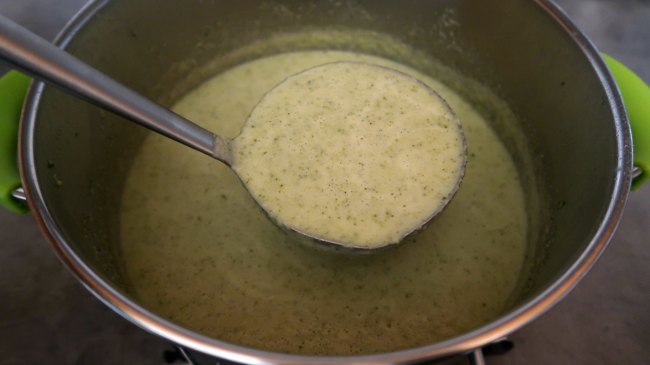 A cheesy broccoli soup makes a hearty vegetarian meal. Here's what you'll need as a base:
Chopped Onion/Garlic/Leek
Chopped Broccoli
Water/Stock
Melt coconut oil or butter in a saucepan. When hot, add your choice from chopped onion, garlic or leek.
Cook until starting to soften and then add chopped broccoli and water or stock to cover. (Or a combination of the two.)
Bring up to the boil and simmer until the broccoli has softened.
Once the soup is ready, blend, together with your choice from the following creamy and cheesy ingredients:
Cream
Sour cream
Cream Cheese
Grated Cheese
Parmesan
Butter
I went for a generous few tablespoons each of cream and parmesan for the perfectly creamy, cheesy broccoli soup.
3. Chicken Sausage Casserole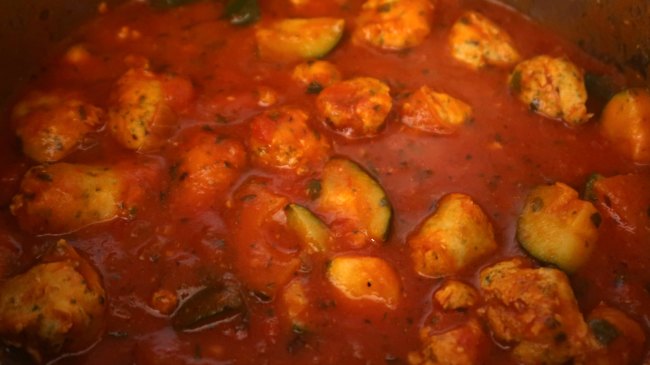 This easy one pot sausage casserole has just 4 ingredients:
Chicken Sausages (use any low carb sausages you like)
Onion, chopped
Zucchini, chopped
Pasta Sauce (use any low carb pasta sauce)
Start by melting coconut oil or butter in a saucepan. When hot, add the chopped onion.
Meanwhile, chop the sausages into bite sized pieces and add to the saucepan once the onion has started softening.
Cook until the sausages are browned, then add the chopped zucchini and pasta sauce. As with the above lamb stew, you can add in any other low carb vegetables you like.
Bring up to the boil and simmer for 15 to 20 minutes until the vegetables and sausages have cooked through and sauce reduced.
This sausage casserole has all the flavors of a nourishing meal that's been cooked for hours yet it took quicker than calling (and waiting for) take out to arrive!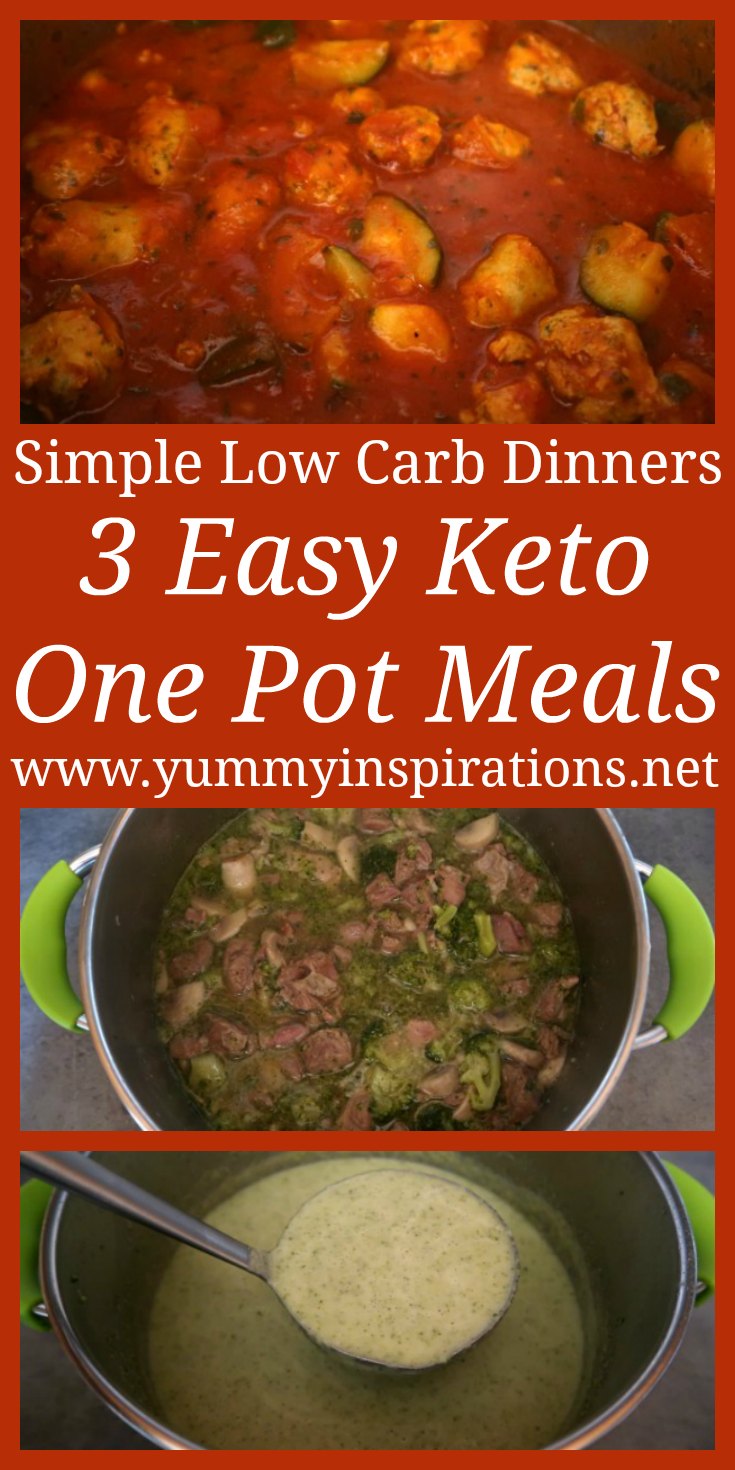 More Easy Keto Dinner Ideas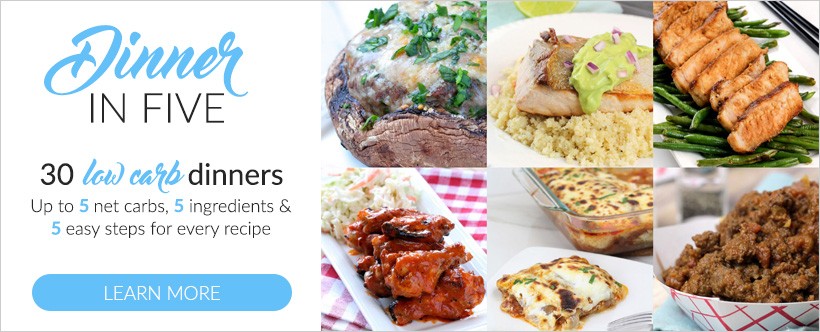 Subscribe to receive the FREE weekly newsletter, packed full of easy recipes and food inspiration plus exclusive, subscriber only content. Click here to Subscribe by Email.
Disclaimer – this post is meant for informational post only and should not be construed as medical advice. Please consult with your health professional before making any dietary changes.
Disclosure – this post contains affiliate links.
The post 3 Easy Keto One Pot Meals appeared first on Yummy Inspirations.