Spicy Vegetarian Chili Recipe
Its been a great fall! We have so enjoyed the warm fall in N.E. Ohio. The great weather actually gave our garden a chance to produce a ton of tomatoes and some of the best peppers we have ever had. We are still trying to figure out what to do with the ghost peppers. When we purchased the pepper plant it was marked as a Serrano. Yes we were surprised when the peppers started to produce. This wasn't any kind of Serrano pepper we every had. First thing we tried the peppers in was a stuffed Bread and it was spicy!!! Then we decided to put one (yes only one!) into our Vegetarian Chili.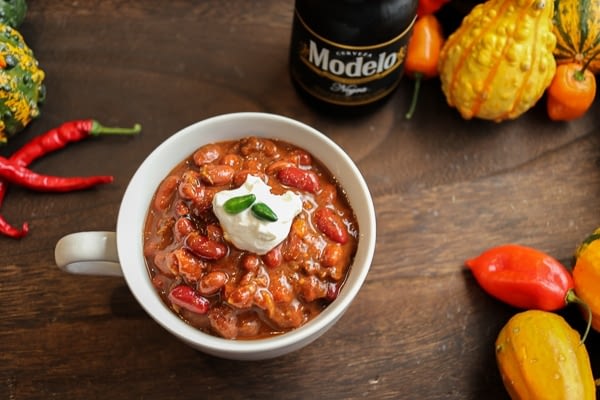 This turned out to be a great decision to add the ghost pepper to the Vegetarian Chili. It added a nice spice and a really nice fruity flavor. I don't know about you but we love to experiment with new flavors. It is so much fun to play with something like the ghost pepper (for the first time ever having one) and discover YES, they are super spicy but the best part they are also bright and floral.
Vegetarian Chili
As the days get colder don't we all want to have those warm and cozy comfort foods. When I was a kid we had chili often. I guess my Mom was way ahead of her time because most of the time our chili was meatless. I just remember it was always one of my favorite dinners.
We loved this vegetarian chili so much we had it for breakfast one day! Then with the leftovers we baked a potato. Added the vegetarian chili, cheddar cheese, sour cream and chopped onions. This was one of the best potatoes I ever had and the first time I have ever added chili to my baked potato. I usually don't like to mess with a classic baked potato (sour cream, onion, salt, pepper!!!). I mean why mess with perfection. But NOW, the only way I want a baked potato is going to be topped with this spicy vegetarian chili.
After having this savory vegetarian chili take out baked potato to an epic level. we decided to make a chili dog. I know hot dogs aren't vegetarian but WOW what a great way to have a chili dog. This vegetarian chili made this the best hot dog ever!!! Even better than those yummy hot dogs you get at the local Lowes store. Haha yes I rarely go into Lowes without a little mustard and ketchup on my t-shirt. . .why do those food trucks insist on being out in that parking lot!!! I mean I am helping the local economy. . .RIGHT! But now that I've had this chili dog its the only way I want a hot dog. I mean check out this hot dog!!!!
Now if you want to try a Spicy Turkey Chili. Please check out our Turkey chili recipe or our white bean chili recipe and let us know what you think!
Spicy Vegetarian Chili Recipe
This is the best spicy Vegetarian chili-it's delicious and has a nice spicy kick. If you're looking for a lower calorie spicy chili, this is the recipe for you!!!
Print
Pin
Total Time:
1
hour
5
minutes
Ingredients
1/2

Tablespoon

Olive Oil

1

Large

Onion

1

Clove

Garlic

4

Tablespoon

Chili Powder

1

Tablespoon

Cayenne Pepper

Optional use only if you want it spicy

1/2

Tablespoon

Cumin

1

teaspoon

Salt

1

teaspoon

Black Pepper

1

teaspoon

Oregano

1

teaspoon

Onion Powder

1

teaspoon

Garlic Powder

1 1/2

Tablespoon

Vegetable bouillon

Or Chicken Bouillon

32

Ounces

Spicy Chili beans

16

Ounces

Kidney Beans

Drain the Kidney Beans

30

Ounces

Diced tomatoes

2 – 14 1/2 ounce cans

1

bottle

Dark Beer
Instructions
Chop Onion and Slice Garlic

Sauté Onion and Garlic. When the onion starts to get soft add the spices – Chili powder, cayenne pepper, Cumin, Salt, Black Pepper, Onion Powder, Garlic Powder, and Oregano. Sauté for 2 minutes

Cook the Onion, Garlic and spices for about 2 minutes until the flavors are mixt togegher. This really enhances the spices

Add Diced tomatoes to Onion Mixture. Stir into onions and spices

Mix Boullion into 4 cups of water. (Or add Chicken Broth)

ONLY if you want it really spicy add Ghost pepper or Habanero Pepper We did!!!!

Simmer for one to two hours.

Enjoy. I like to serve with sour cream, shredded cheese, a little fresh Jalapeño and green onions if I have them in the house.
Nutrition
Calories:
262
kcal
|
Carbohydrates:
44
g
|
Protein:
13
g
|
Fat:
4
g
|
Saturated Fat:
1
g
|
Sodium:
1665
mg
|
Potassium:
1079
mg
|
Fiber:
12
g
|
Sugar:
10
g
|
Vitamin A:
1584
IU
|
Vitamin C:
14
mg
|
Calcium:
111
mg
|
Iron:
6
mg
Pin Recipe
The post Spicy Vegetarian Chili Recipe appeared first on Belly Laugh Living.