The Best Cabbage Roll Soup
Pin this recipe or leave a comment: The Best Cabbage Roll Soup on Green Healthy Cooking
Cabbage roll soup is a great way to enjoy the classic flavors of cabbage rolls with way less effort. This quick and easy recipe is perfect for any fall or winter evening meal.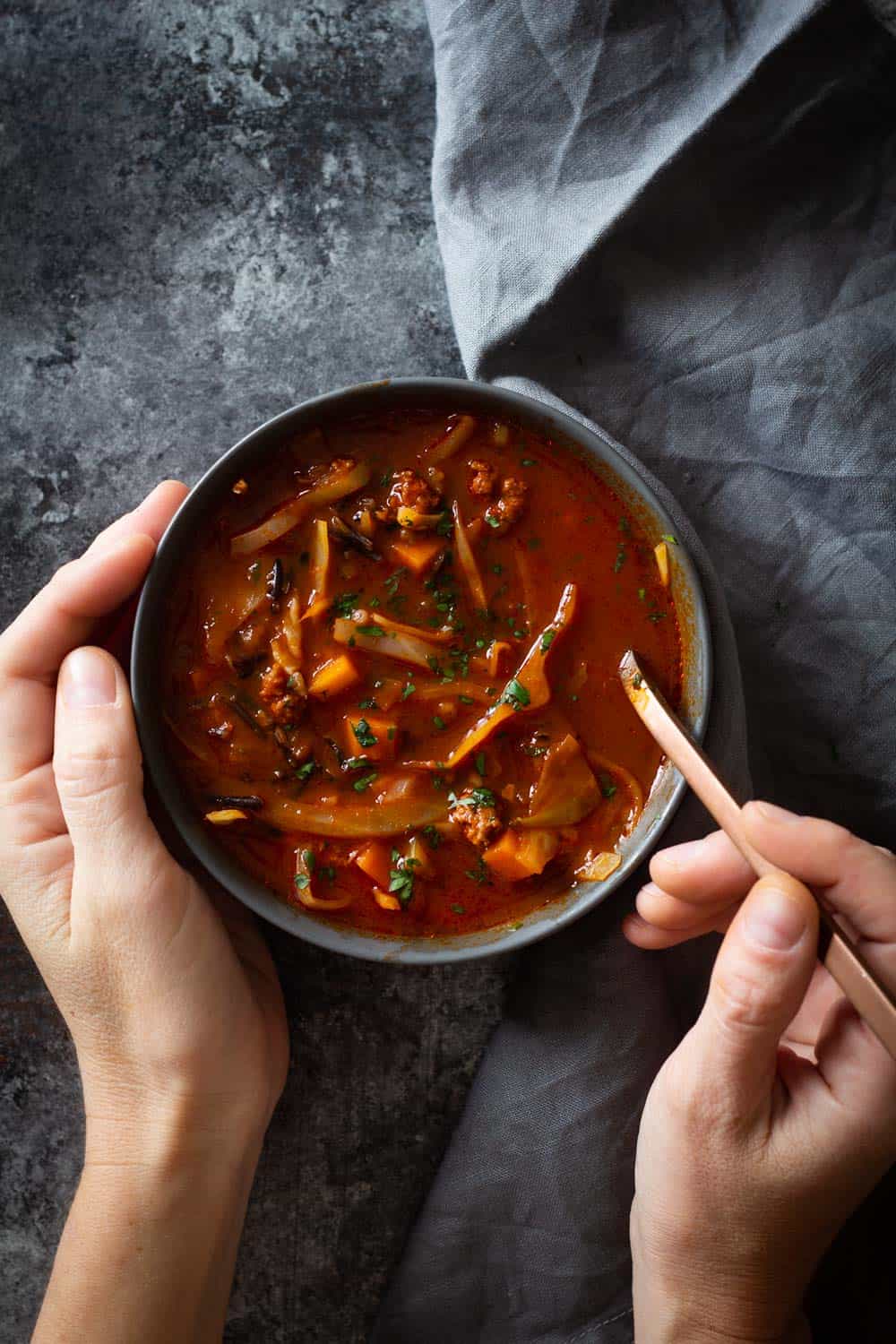 What ground meat is best for soup?
In this cabbage roll soup, I used lean ground beef. You are cooking the beef and vegetables in avocado oil, so you don't need the extra fat. If you used fattier meat, you would want to drain the fat out of the pan before making the rest of the soup.
Not so much for fear of calories but rather, excess fat dilutes the flavor of the soup. Soups and sauces should always be rather on the lower side of fat so the actual flavors come through.
For a change, you could also use ground pork, chicken or turkey.
How to make cabbage roll soup
This recipe has all the same flavors as cabbage rolls, but none of the work.
Prepare the rice in the Instant Pot
Stir fry the veggies
Blend your broth. This starts with a beef broth base. But by adding tomatoes, red peppers, soy sauce, red wine vinegar, and honey to it, we end up with a deep amazing flavor. Just toss all those ingredients in the blender and add it to the veggies in the pot.
Add the ground beef and cabbage
Let it simmer for 30-45 minutes. Don't overcook it. You don't want soggy cabbage.
Serve over rice

How to add rice to soup
For this cabbage roll soup recipe, I recommend using your Instant Pot to make the rice separately. If you don't have an Instant Pot you can make it on the stovetop or in a rice cooker.
Cooking rice in the soup will leave your soup pasty and the rice soggy and mushy.
Plus, rice and soup can not be frozen together. If you want to freeze this recipe, you will have to freeze the rice and soup separately and then serve them together.
You have lots of choices when it comes to adding rice to soup. Wild rice is fantastic with this cabbage roll soup. Brown rice will also go well. Try making both in your Instant Pot by following these instant pot rice instructions.
Can you make cabbage roll soup in the slow cooker or Instant Pot?
While I tried this recipe on the stovetop, you can speed it up using an Instant Pot or let it simmer all day in a slow cooker.
Your Instant Pot has so many functions, it's easy to make this soup that way. Use the saute function first to stir fry the veggies and brown the meat. Then add your broth and cabbage and set to high pressure for 15 minutes + full natural pressure release, that's all.
In the slow cooker, I do recommend you brown the meat first. Otherwise, just put all the ingredients in the pot. Cook on low for eight hours or high for four to five hours.
Cabbage Roll Soup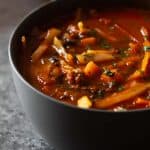 1 lbs lean ground beef
1 onion
2 cloves garlic
1/2 cup diced celery
1/2 cup diced carrots
3-4 cups green cabbage
3-4 jarred roasted red bell peppers
1 can tomato sauce ((13.5oz/400ml) or double the amount of roasted red bell peppers)
4 cup beef broth
1 Tbsp soy sauce
1 Tbsp red wine vinegar
1/2 Tbsp honey
1/2-1 cup wild rice
sea salt
pepper
parsley (for garnish)
Prepare Instant Pot Rice. Leave at "keep warm" function until the soup is finished. My favorite is wild rice, but brown rice is great, too.

Peel and finely chop onion and garlic.

Peel and dice carrots, wash and dice celery.

Preheat a large pot over medium heat and once hot add a little avocado oil.

Brown the onion and garlic, then add diced vegetables and stir-fry for a couple of minutes.

Add roasted bell peppers, broth, tomato sauce, soy sauce, red wine vinegar, and honey to a blender and blend on high until smooth, then add to the vegetables in the pot.

Bring soup to a boil, then add ground beef and cabbage, break the beef apart with a spatula, reduce heat to low, cover and let simmer for 30-45 minutes.

Before serving try the soup to see if it needs more seasoning with sea salt and pepper.

To serve, add 1/4 cup rice to a bowl, pour soup over it, and sprinkle with freshly chopped parsley.